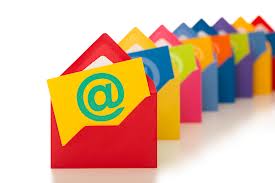 An often overlooked yet extremely important channel in the online marketing mix is email marketing. With the popularity of viral videos, search engine optimization, and social media, many business owners fail to see the cost-efficiency and effectiveness of a properly executed email campaign.

The Email Intelligence Report Q3 2012 from ReturnPath  shares that email marketing continues to provide the highest ROI, and people continue to sign up for email marketing offers. It further states that email intelligence gives businesses the tools that are needed to get the greatest impact from an email marketing program.

Today I'd like to discuss the benefits of an email campaign to your growing business.

Global connectivity

Even if you are a brick and mortar business that operates in a small community, email marketing allows you to easily reach out to new markets. It allows you speak to new audiences from different parts of the world as long as there's an internet connection.

Maximizes return on investment

According to a Direct Marketing Association study, email marketing returned $42.62 return on investment for each dollar spent in 2009. Depending on the type of software used in an email campaign, some experts estimate that email marketing ranges from .03 cents to .10 cents per email sent.

Searchdogmarketing.com  also affirms that costs accrued through the creation, sending, testing/measuring, and receiving of an email is a little over 70% lower than a direct mail campaign of 5000 marketing pieces.

Flexible features and mobile accessibility

Email marketing lets you engage your market whenever they are most receptive. In a study done by Google in 2011, 82% of smartphone users check and send emails with their device.This trend, according to analysts, will continue in the coming years with the growth of mobile usage.

With email marketing's flexible features, you can also include engaging videos about your brand or the products you want to promote. This helps you connect with your audiences better as many scientists have proven that the human brain responds better with pictures than with words alone.

Track your success and get instants results

Compared to traditional forms of marketing such as direct mail and print advertising, email marketing provides measurable results to help you gauge the effectiveness of your campaign.

A lot of email software packages are able to help you identify important metrics such as the delivery rate, open rate, click-through rate, and unsubscribe rate among others. It help you know how many people received your email, opened it, and who opted out of the subscription thus allowing you to make informed decisions should you need to make changes to your campaign.

To get started with your email marketing efforts, call us at 365Outsource.com today.