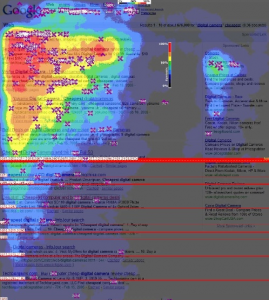 When your browser has already loaded your results page, do you know what's the first thing that people looks at first? With 10 results on the first page, what do you think is an eye-catcher? An experiment conducted a few years ago had the answer to these questions. This experiment was conducted to identify the movement of people's eyes in Google's search engine results. This experiment has proven that yes, being in the number one spot of organic search results is important. Another thing that this experiment has proven is that companies that provide outsourced SEO is very important.
The experiment that was mentioned above is called the "Google Golden Triangle". Eyetools and Marketing firms, Enquiro and Did-It were the companies that conducted this experiment. This study was conducted in an eye tracking laboratory. The search engine that they used was Google, and they used this search engine all throughout the study.
The golden triangle was showed in the heatmap , which starts its base from the first search engine results and tapers down to the left side until the 4th result. The top organic search result, top sponsored ad, and alternative results of Google, local suggestions, news, and shopping are the ones included in the golden triangle. According to the study conducted, ranks 1, 2, and 3 had 100% visibility, while rank 4 decreased its visibility by up to 85%.
The Google Golden Triangle study only proved to everyone that rank and page position in both PPC and organic search results are important. Having your website optimized by SEO outsourcing companies would greatly affect your page's rank and page position. An example of an SEO outsourcing company that can give you desirable results is 365Outsource.com. This company runs SEO and SEM campaigns to help improve it's client's rankings. This is done by providing services such as link building, content writing, Google Places SEO, and other services. To know more about their company, visit their website and learn more about their quality services.