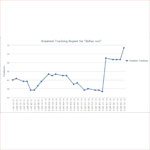 Many outsourcing companies are available to help businesses in their needs. In SEO, most businesses are hiring an SEO Outsourcing company to help them in their online marketing needs. With many SEO agencies available for companies, how do we, as part of the industry rise through the competition?
There are a lot of ways in which an SEO agency can reach to businesses to build a long-term relationship with them. One of the best things that an SEO agency can do is to set an example – be on top of search engine results pages (SERPs) and maintain the position. From here, you can enhance your ways to maintain good relationships with your clients. Here are some ways how we, as an outsource SEO company have set ourselves apart from millions of outsourcing companies out in the market.
More than making our client's websites rank, we make sure that we also take pride in how to let our clients know how their campaigns are working. Some of the things that our campaign summary report consists of are:
Search Engine Traffic
Under this category, we let our clients know how much traffic conversion there are through search engines only. We also put in the top referrers which have contributed traffic to your website.
Comparison of Current & Previous Rank
This is one of the important aspects of the report, since we also let you know the movement of your keywords regarding their ranking. We also show you exactly how much your rank has increased.
Additional Ranking Improvement
Since we track your rankings daily, we also discover additional keywords that you can use to improve your rankings. We let you know these, aside from the ones we have researched upon launching your campaigns.
Web Visitor Statistics
With the use of Google Analytics and proprietary methodologies, we make sure that we track how many users visit your site. We also let you know how much visitors are landing in your site's inner pages.
Action Plan
Last, as partners in the growth of your business, we also let you know what our action plans are for the coming month. We make sure that the action plans we've created are synced with your business' goals.
If you need help with your online marketing campaigns, we will definitely help you out. Visit us at www.365outsource.com and view our wide array of products and services that will definitely help you reach top position on search engine results pages (SERPs).