Twitter has been using hashtags since 2007, and it was only a matter of time until other social media sites followed suit. Instagram, Pinterest, and even Flickr use hashtags. When Facebook launched its own hashtags, it wasn't a move to directly compete with Twitter. They launched hashtags to follow current social network norms and provide community building and social media marketing opportunities for businesses.
How Do Facebook Hashtags Work?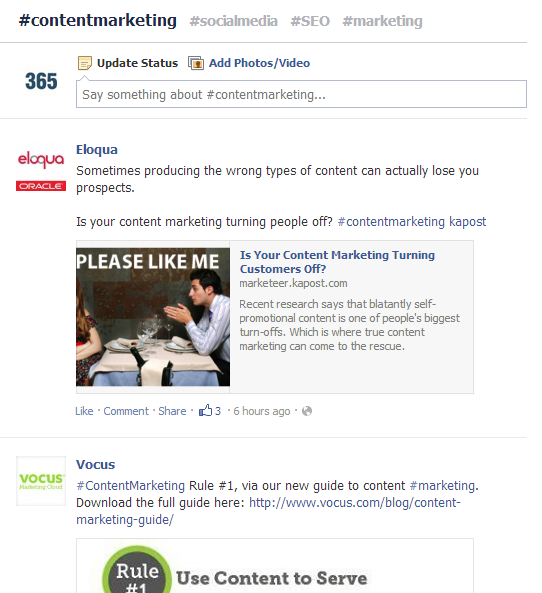 Like their Twitter counterparts, Facebook hashtags create clickable links in a status or reply, and clicking on these will display feeds of public posts that use the hashtag.
Facebook hashtag feeds work a little differently than Twitter hashtag feeds do. Twitter shows tagged tweets in order of popularity, with sponsored or promoted tweets at the top. Facebook arranges tagged posts in chronological order. Posts in a feed still have Facebook's signature Like, Comment, and Share options.
A Facebook status box appears at the top of each feed, and any post you make there will automatically include the hashtag. Related hashtags also appear at the top of the feed.
What are Facebook Hashtags for?
While Facebook hashtags are fun and easy for everyone to use, they're mostly geared toward brands and businesses. Hashtags can be useful for:
Building a Community through Conversation: By retaining the trademark Like, Comment, and Share functions in hashtag feeds, Facebook hashtags open up opportunities for conversation and community building. It's easier to create discussion threads about specific hashtags on Facebook.
Keeping Track of Trending Topics and Discussions: Facebook hashtags allow professionals to monitor the latest industry trends and discussions. While Twitter does a good job of displaying the most popular tweets for a single hashtag, Facebook does a better job of showing the most recent discussions and posts.
Marketing and Advertising: Facebook don't allow businesses to buy hashtags for advertising purposes yet, but they sent a statement to AdWeek that said: "If you are already using hashtags in an advertising campaign through other channels, you can amplify these campaigns by including your hashtags in Facebook advertising." Getting your customers or clients to build discussions around your hashtags now can set a good foundation for your future marketing and advertising campaigns.
Hashtags on Facebook provide opportunities for people with similar interests to connect with one another, but they also offer many opportunities for businesses to interact with and analyze their target market. Checking a brand page's number of Likes used to be the best way to gauge its popularity, but as Advertising Age writer Cotton Delo says: "Likes are flawed signals, since users sometimes click on them arbitrarily or to satisfy a social obligation." A hashtag is "a more tangible expression of affinity", and can help you find your loyal customers and brand advocates on Facebook.