Social media has completely changed how businesses handle their marketing, and has been altering the way companies deal with customer service. Many successful companies now use social media as a customer service channel to respond to complaints and inquiries. These days, ignoring comments, questions, and complaints on your social media channels can be just as bad as failing to answer an e-mail or pick up the phone.
Social customer service can provide many benefits, but only if you do it properly. Our previous post on tips on developing social media strategies can help you out, but you can also learn a lot from these three things that successful businesses do to integrate social media into their customer service.
Respond as Soon as You Can
This appreciative tweet from one of Citibank's customers proves how simply responding to your customers quickly can go a long way. Today's consumers usually don't have the patience to pick up the phone or write an e-mail to get in touch with businesses. They would much rather ask you questions on your company's Facebook Wall, or tweet a complaint directly to your company's Twitter account because it's faster and more convenient.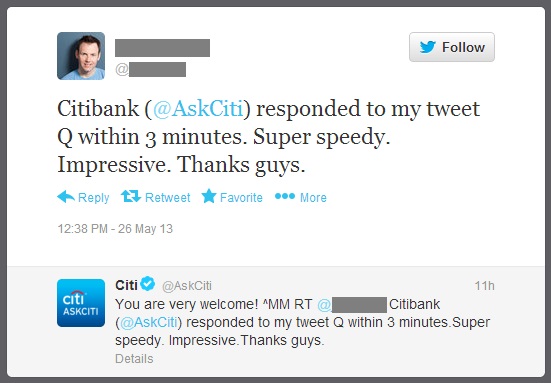 The problem with this is these customers will also expect you to respond to them faster. Surveys have shown that customers expect responses on Facebook within 24 hours and on Twitter within half an hour.
Even when you need more time to formulate the solutions to a specific problem your customers are having, at least let them know you've seen their complaint and assure them that you're working on it.
Actively Monitor What Your Customers and Prospects Say
Not all customers will post directly on your Facebook Wall or address you with @ mentions on Twitter. You need to keep a careful eye on other mentions of your brand to spot any potential problems or discover promotional opportunities.
For example, one of TD Bank's clients used Twitter to announce that he was closing his account because he was unsatisfied, but only listed the bank's name without @ mentioning it. Thanks to careful social media monitoring, TD Bank still caught the post, and immediately replied to the tweet, saying they were sorry to see the client go and encouraging him to send them a direct message to discuss the issue.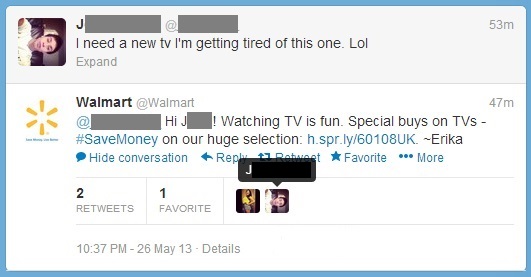 Walmart takes its social customer care to a different level by reaching out to social network users who don't even mention the Walmart brand. When customers or prospects ask for advice on where to buy something, Walmart responds to them with a product recommendation and link. They even do this for customers who complain about the product they want being out of stock at a competing retailer!
Learn the Value of Criticism
Many business owners dread customers who post negative comments about their products or services on social networks, but you need to learn how valuable they are to your company's success. Paying attention to criticism and negative commentary helps you see which aspects of your business or products require your immediate attention.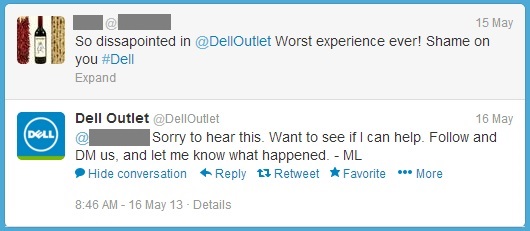 Successfully monitoring and dealing with detractors can even lead to an improved online reputation or earn you a new brand advocate. For example, Dell actively monitors and engages their detractors on social networks to diffuse and address the problems these disgruntled customers complain about. The company claims that they can convert detractors into brand advocates 30% of the time through these efforts.
Don't treat your social customer care merely as an extension of social media marketing. Forbes writer and freelance journalist Lisa Writhman says, "While marketers typically focus on pushing out information, it's important to dedicate resources to listening and responding to what customers have to say." Hire or outsource a dedicated team to handle your social customer service efforts to make sure you always have competent professionals ready to address your customers' needs.