Content Management System (CMS) is a computer program used to create, edit and maintain content in a streamlined and uniform manner. The major use of CMS is to publish and maintain website content even though you lack skills in web programming. There are thousands of CMS you can choose from, but where website creation is concerned the simplest and most common of these are WordPress, Drupal, and Joomla.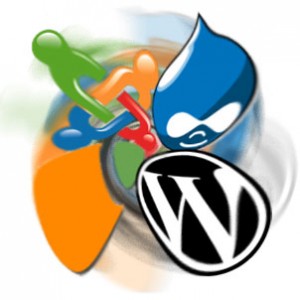 Using a CMS increases the efficiency of website maintenance and puts less dependence of businessmen on programmers. If you're thinking of starting a new site but you have no idea which CMS is best, consider these simple guidelines.
WordPress vs Drupal vs Joomla
If this is your first time to work with a CMS, WordPress development is a great choice. Though it was meant as a blogging platform, its ease of use made WordPress great for making websites. Ready-made templates are available to organize and customize layout, text and colors. It's gotten so popular that people started making functional plugins for Facebook, SEO-pack, Tumblr, etc.
Drupal, on the other hand, is extremely developer oriented. If you prefer total control & are technically versed, then you'll enjoy the amazing functionalities that this CMS has to offer. Use Drupal if you want to control every little detail and function of your site. On the downside, it can be difficult for even designers or the average user to play around with if they don't have some degree of technical know-how.
Joomla is practically like WordPress in terms of features. It's like Nikon vs Canon – the debate about which is better goes on forever. Most agree that the learning curve of Joomla is longer than WordPress, and that it is more scaleable. Some developers choose Joomla because of its large customization and development capabilities.
Your CMS Should Match the Core Functionality of Your Site
Choose a CMS that matches your needs. Define the primary function of your site and find a CMS that's built for that purpose. Would you like to make it an ecommerce site or would you like to dedicate it exclusively for blogging? If you want a site that's fully dedicated to ecommerce, then get a CMS platform that supports that.
Do you want it to cater to a visual audience who'd appreciate a robust selection of videos, photos, and audio files? Overtime these CMS' have evolved and the templates that can be found will do just about any job.
Choose a CMS that Works Intuitively
A great CMS should be user-friendly enough to enable an average person to make basic page edits. That person should be able to open the backend of the site and perform basic functions without too many complexities. If you don't have a technical support group in-house, it's best to use a CMS that has good support system or help forums.
Think Flexibility
Find out if the CMS you're planning to use allows room for growth. This means that even if you're just starting with your website, you should anticipate that it will eventually turn out well and the business will require more complex functionalities. Your CMS should be able to cater to such growth. Content Management Systems are not the same, so as early as now you might want to consider something that will allow you to add more add-ons and plug-ins in the future.
Check the Price
There's a lot of free CMS out there such as WordPress, Joomla and Drupal. For a little fee, you could provide special support and add-ons to let you customize your website features as well as your service offers.
Don't get overwhelmed by the variety of options available to you. Choosing the right CMS could spell the difference between success and failure in your online marketing attempt. Even if it means checking out a huge selection of CMS over and again, By all means, take time to review all of them until you're 100% sure of your choice.